Beyond the Supermarket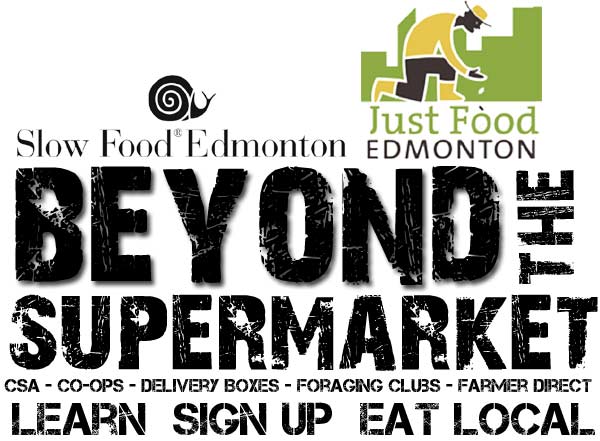 Explore the many ways to get your food – beyond the supermarket!
Beyond the Supermarket was an inaugural event presented by Slow Food Edmonton and Just Food Edmonton. It was held next to Seedy Sunday.
The event saw 15 organisations participating, including Community Supported Agriculture, delivery boxes, bulk buying club, foraging clubs, animal shares and more. About 200 people passed through our doors.
Attending were: Gold Forest Grains, Good Note Community Farm, Alberta Mycological Society, The Organic, Box, Sunhill Gardens, Operation Fruit Rescue Edmonton, Greens Eggs and Ham, The Good Food Box, The Bean Stalk, Serben Free Range, Natures Way Farm, Little Jeannie Farms, Natures Green Acres, Sweet Earth bulk buying club, and a milk/cow share activist! Many of these representatives also treated us to a presentation in the gallery.
Feedback was very positive. Participants liked networking with their peers, many of whom they had never met before, and the café-style conversational format. Visitors liked the range of organisations showcased, being able to find specific produce, and the concurrency with Seedy Sunday. Everyone said they wanted a bigger venue, so watch out for developments next year!
We wanted to have more than a one-day event. So, thanks to Laura White (the UofA student working with Just Food Edmonton), we will have a section of the Slow Food Edmonton website dedicated to information about all the organisations present, and more. Each year it will grow!
You can see another report about this event at www.gfsa.wordpress.com
Extending thanks:
The organising team for this event was Laura White (kudos, Laura, you did an amazing job), Kevin Kossowan, and Thea Moss. Big thanks go to The Tomato for their support. The Nina Haggerty was a fun space to hold the event in. By the by, the people at the Haggerty were really great to work with! Thanks Paul! And thank you to the Capital City Church of Christ for use of their chairs. The Slow Food volunteers did a great job too. Thanks to: Johwanna, Raymond, Angela, and Pam.