Pipsi, Mikku and Char Lox, Oh My!
My lips are still smacking over the new foods we tasted at last night's incredible Slow Food Edmonton's Northern Foods Tasting. Davis Strait shrimp, Rankin Inlet Char Lox on Edmonton's Tree Stone Bakery's pizza, "pipsi" (dried, smoked char), muskox jerky, "mikku" (dried caribou meat), lightly cooked pickerel, dried ruby-red apple chips, muskox carpaccio and Grana cheese on baguette rounds, incredibly tender caribou loin chops, muskox jerky, mu-shu caribou, muskox tartar and a dish created especially for last night's event: Alleyox Stew – a muskox stew made with Edmonton's Alley Kat beer. The full menu is below.
Thanks to Steve and Twyla, and their adorable kids (the evening's waitstaff and press photographers)! They opened their house to 40 of us foodies and put on an uforgettable spread of food and drink. It was also a great opportunity to get to know newer members of our group. In fact, I was so busy eating, chatting and drinking to get a lot of photos. Hopefully other Slow Food Edmonton members can add to these photos.
Slow Food Edmonton's Northern Food Night Menu
 
Caribou (All From Kivalliq Region)
        Mu Shu Caribou
        Mikku (Dried Caribou)
        Smokies
        Cumin scented meatballs with minted yogurt
        French Rack Roasted
Arctic Char
        Pipsi (partially cooked)
        Lox Pizza (From Iqaluit) on Treestone Pizza dough and horseradish sauce
        Lox on Pumpernickel (From Rankin Inlet) with mustard dill sauce
        Cedar Planked BBQ
        Chowder
Muskox (From Victoria Island)
        Tartar
        Carpaccio with parmesan cheese and truffle oil
        Alleyox Stew  (with two kinds of Alleykat beer!)
Shrimp (From Davis Strait/Pangnirtung)
        Just as nature intended them, unadorned
Jerky
        Muskox
        Caribou
Pickerel (From the Great Slave Region)
        Back Eddy Pan Fried
Chocolate
        Various with Arctic Plants and Berries
Tea
        Various from Arctic Plants
 
Products were sourced by Steve and Twyla from:
 
Kitikmeot Foods (Cambridge Bay, Nunavut)
       Musk Ox
       Char
 
Kivalliq Foods (Rankin Inlet, Nunavut)
       Caribou
       Char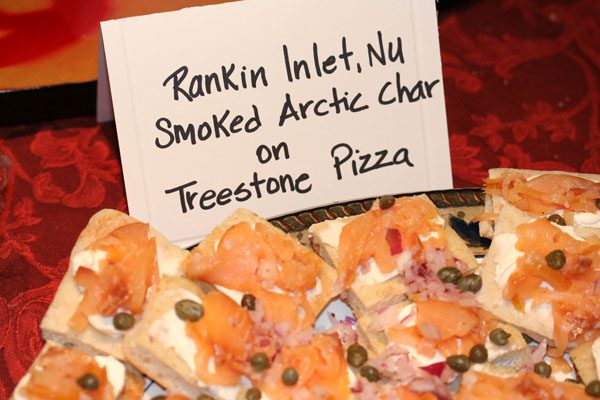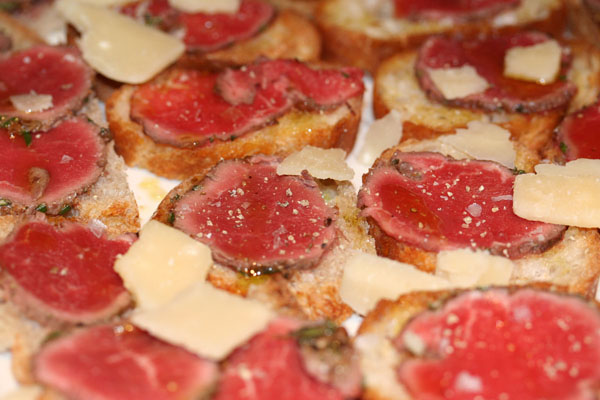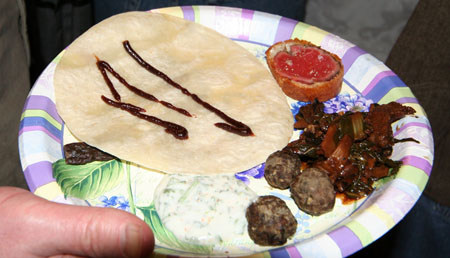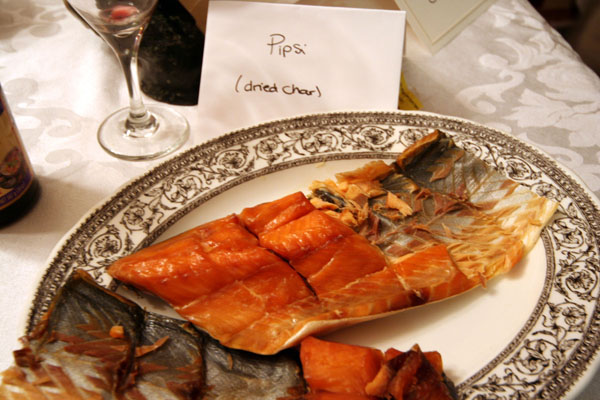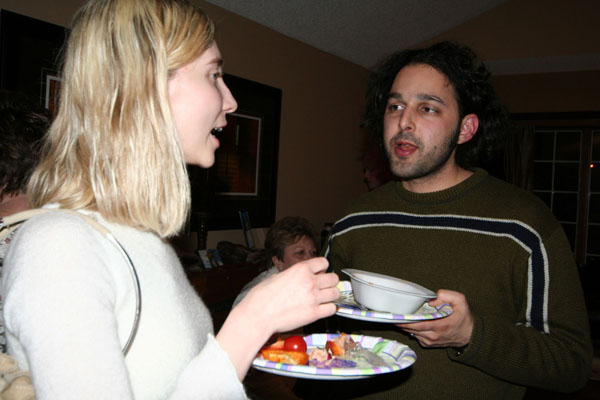 Jennifer CK